Here is a just a sampling of some of the work we have done.
Click on a thumbnail image to zoom in and get more details ...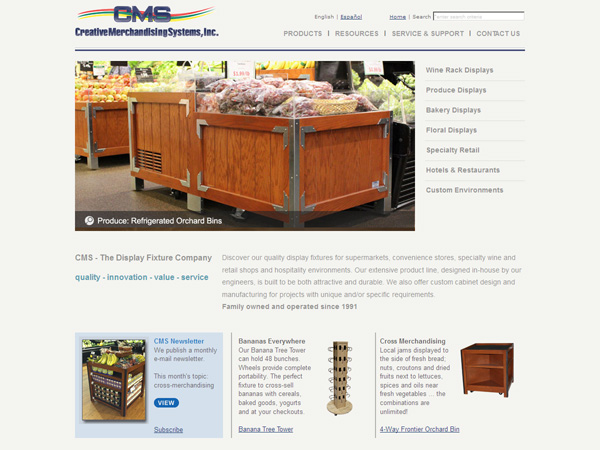 Creative Merchandising Systems: Website
public website with full product catalog support
CMS came to us asking for help in redesigning their website. At the time, their site was a small site that consisted of basic "about us" type of information. They wanted to expand the site to include full support of their entire product line of wine, produce, bakery, floral and retail display fixtures. We re-designed and then developed the site which now has been in production for over 2 years. New products and features continue to be added to the site's supporting SQL database. The site was expanded to be multi-lingual to support Spanish and several spin-off sales/marketing tools have been added, such as a client-specific order entry sub-site. An internal based spin-off site has also been developed to help monitor and process sales leads received via the website. We also help CMS create a monthly email newsletter that is sent out to their customer base and that is accessible directly on the website.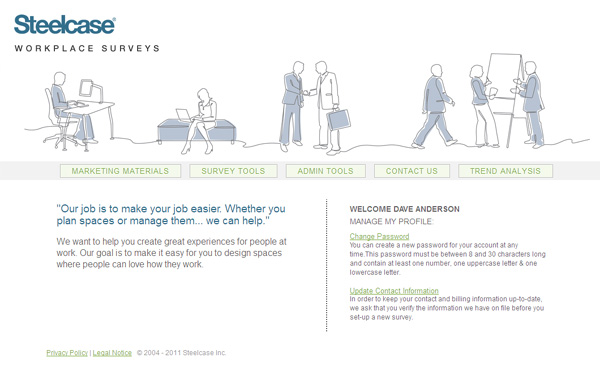 Steelcase: Workplace Surveys
web-based surveys > live status & reporting > trend analysis
We have partnered with Steelcase for over 15 years to develop websites and other software tools to assist their sales and marketing efforts. We helped design and then developed their successful Workplace Survey program and continue to expand and support this set of websites and related databases. Over 42,000 people have been surveyed thus far and 1,600 people, inside Steelcase and out, have become registered users of the site. This community of users can set up their own live surveys and access simple-to-use, yet sophisticated, online status and reporting tools to help them more effectively design office spaces for their clients.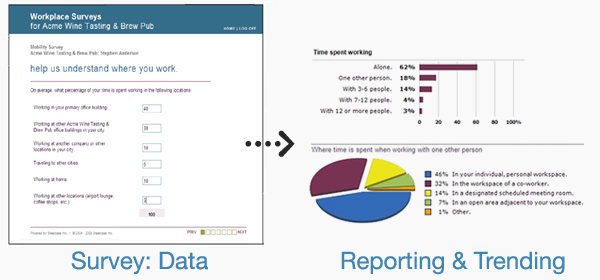 Currently 9 separate survey modules can be selected, mixed and matched together to create a unique client survey and the site also supports 5 languages, with more to be added. SQL Server databases drive the dual survey and reporting sites and processes, Live status feedback is available for in-process surveys and results are presented with professional-looking charts. Data can be viewed from a number of different perspectives: across an entire organization or by individual work groups, job functions or other demographics such as generations. The collected data is also ported over to a Trend Analysis site that provides Steelcase marketing personnel and product designers the ability to search for new trends in work, such as mobility and collaboration.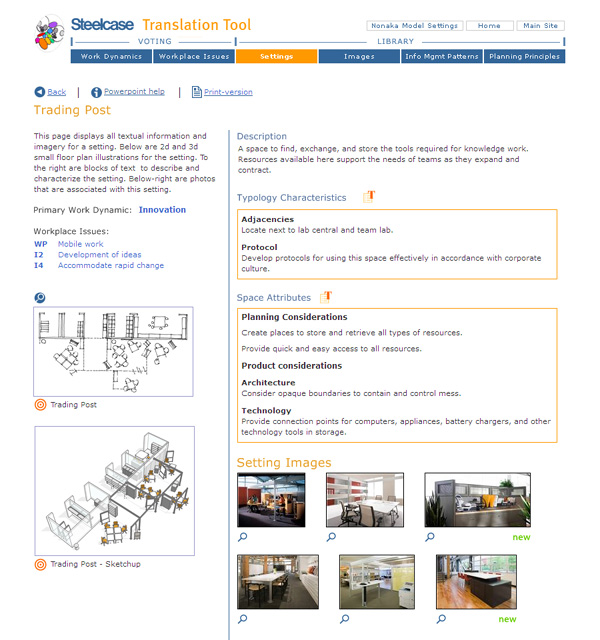 Steelcase: Translation Tool
A web-based tool that houses design settings, images and concepts used by the Steelcase consulting group. The database that drives this website also allows images and settings to be matched up as well as to align them with design parameters that allow users to quickly present appropriate content based on client requirements. This web-based application also contains a quick today vs. tomorrow benchmark questionnaire that is used by the consultants as a method to establish the right content to present. Client sessions can be saved in the database so that client conversation can occur over lengths of time and results can be modified as design work continues.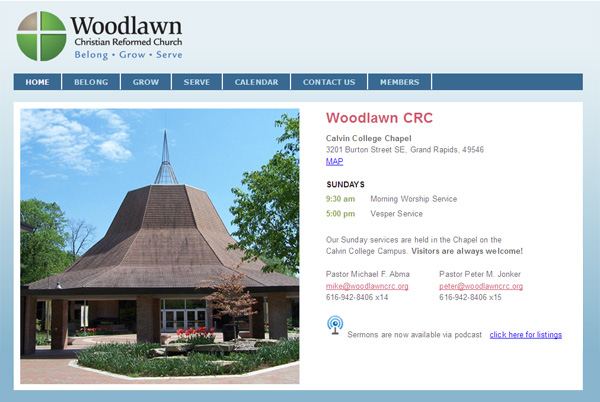 Woodlawn CRC Church: Website
This is a total makeover of the Woodlawn site. We were asked to take a fresh look at what the church had in place prior to our getting involved and to re-design the site, at thge same time adding in many new functional elements. The site has been getting great feedback from members and the church staff loves the ease of which they can quickly update activities, new items and podcast from each week's services.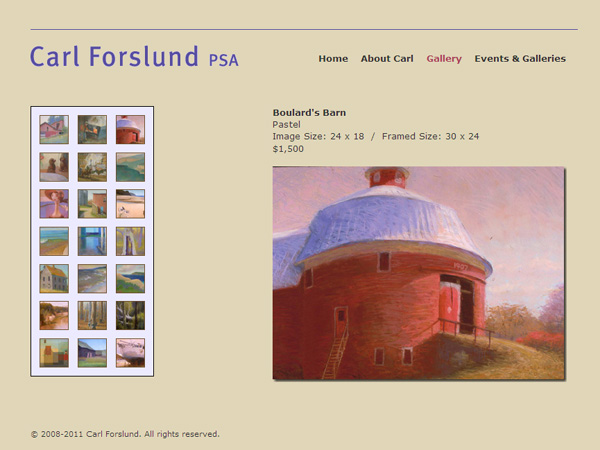 Carl Forslund: Artist Website
Carl Forslund, a noted artist here in West Michigan, wanted a simple website that would feature a gallery of his work and also provide some personal background as well as a list of upcoming events. We like the way the gallery works and Carl's work looks fantastic on-screen (but of course, much better in person).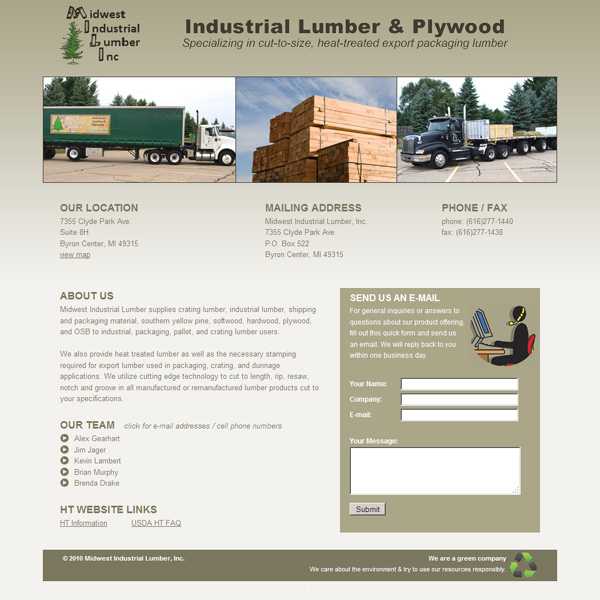 Midwest Industrial Lumber: Website
Our friends at Midwest needed a site launched for their new company within a week's timeframe. So we took it upon ourselves to try and develop a 1-page website that met all their requirements. It shows that it doesn't require a lot of content to make a simple, nice-looking and functional site.
Desktop Tools / Applications
Although most of our work is now web-based, we have also developed several software applications that run directly on PCs and other devices. Below is a snapshot of a small portion of this past work. We would be happy to talk to you more about this level of work or discuss any upcoming projects or questions you may have.